Description
Rinnai Avenger 25 Convector
Designed for open plan living areas
The Rinnai Avenger 25 is Rinnai's most popular portable convector model, and boasts the largest gas heat output in our range. What's more, it can be installed simply by connecting it to a gas bayonet point.
As sleek as it is powerful, the Avenger 25 Convector allows you to escape the winter chills thanks to the dual programmable timers. With morning and evening times available, enjoy the convenience of fully automatic operation when you need it most.
Quickly heat any large open plan living area without worrying about your heating bills – this radiant portable gas heater features adjustable temperature settings, economy mode and easy-to-use control panel with included remote control.
With a 5.8 star energy efficiency rating, the Avenger 25 Convector is an economical solution for keeping comfortable when the temperature drops outside. All you need is an appropriate gas connection point.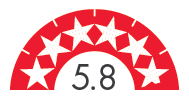 Low emissions technology
5 year peace of mind warranty
Ideal for large, open plan living areas
Dual programmable timers – for mornings and evenings
Remote control – for added convenience
Comes with standard 3m gas hose